IN MEMORIAM
Assoc. Prof. Kuncho Ignatov, MD, PhD, was born in 1942. He graduated from the Medical Faculty of the Medical Academy in Sofia in 1969. Between 1969 and 1973 he worked as a regiment doctor in Svishtov, and until 1989 – he was a surgeon at the Army Hospital in Pleven. He defended a thesis on clinical course, prognosis and prevention of traumatic thrombophlebitis in 1983. In 1989 he became Director of the Army Hospital in Varna, and in 1991 was elected associate professor at the Department of General Surgery at the Medical University – Pleven. In 1993 he became Director of the University Hospital in Pleven, and in 1995 was elected Rector of the Medical University.
Assoc. Prof. Ignatov was an ardent supporter of the Problem Solving for Better Health program in Bulgaria, a collaborator of the Communication for Better Health program which was started in 1997, and gave all his support for the start of the Problem Solving for Better Health Program for Nurses in 1998.
From June 6 to June 8, 2003 a PSBHN workshop on nursing care in oncology and palliative care was held in Sofia, organized by Dreyfus Health Foundation, Association for Better Health, in collaboration with the National Oncology Hospital. All participants are involved in oncology and palliative care in oncology hospitals for treatment and follow-up of cancer patients in Sofia, Vratza, Popovo, Pleven, as well as in hospices in Sofia and Plovdiv.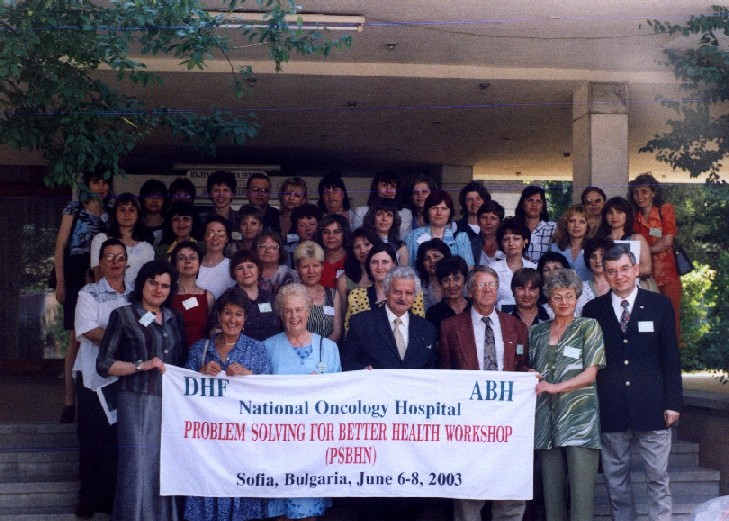 Prof. Ivan Chernozemski – Director of the "Fight against Cancer" Foundation and Member of the Board of Director of the National Oncology Hospital, addressed the participants, and Dr. Stefka Sholeva from CONVATEC-Bulgaria, presented products the firm offers for oncology and palliative care. The firm provided funds for some of the workshop activities as well.
.
The following projects were developed:
· Improving life quality in stroke patients - Adelina Yakimova
· Psychosocial support for cancer patients - Albena Ignatova
· Alleviating side effects of chemotherapy given to skin cancer patients - Aneta Alexieva
· Providing GPs and their patients about the highly specialized investigations performed at the Nuclear Medicine Department of the Regional Oncology Hospital in Vratza - Angela Mladenova
· Education and support for parents of children with cancer - Daniela Nedelcheva
· Prevention of decubital ulcers in 100 bedridden patients - Detelina Stancheva
· Setting up a national information center concerning postgraduate training of oncology nurses - Elena Christova
· Training 10 students for nursing terminal patients - Emilia Kikarina
· Reintegration of cancer patients after mandibular and facial surgery - Gergana Spassova
· A program for alleviation of suffering of postoperative cancer patients - Ivanka Nacheva
· Improving rehabilitation for postoperative uterine cancer patients - Kamelia Michailova
· Сsetting up an information center for patients at the Oncology hospital in Vratza - Karolina Kostova
· Training for support workers to improve on hospital hygiene - Krassimira Trifonova
· Reduction of stress in staff diagnosed with or treated for cancer - Lenka Atanassova
· Organizing gynaecological and mammologic check ups for 150 women - Lilyana Adamova
· Preparation of patients to comply with pre-operative and postoperative procedures - Marina Mavrikova
· Providing information for cancer patients and their families on their rights and social benefits - Maya Georgieva
· Psychological support for hospice nurses - Pauna Stoyanova
· Training for 10 patients with urostoma - Petya Naidenova
· Sexual education for psychiatric patients residing in a "safe home" facility (safe sex and reduction of violence) - Roumyana Stoyanova
· Training for 30 patients with tracheostoma canula to maintain proper hygiene of the cannula - Sinanitza Stamatova
· Prevention of decubital ulcers in 30 terminal patients - Tatyana Velikova
· Providing information to general practitioners and patients about surgical treatment provided at Popovo municipal hospital - Tzvetomira Peeva
· Reduction of stress in patients undergoing palliative treatment for lung cancer - Valentina Kostova
· Education for postoperative uterine and cervix cancer patients - Vesselina Altavanova
· Reduction of number of cancer patients not registered for treatment and follow-up - Yanka Zhivkova
In Stara Zagora, chief and head nurses from Bourgas, Dryanovo, Etropole, Gabrovo, Gorna Oryahovitza, Kozloduy, Pleven, Popovo, Razgrad, Rouse, Smolyan Sofia, Stara Zagora, Turgovishte, Veliko Turnovo and Yambol, Yambol, attended a PSBHN workshop from June 11th to 13th. The workshop was organized by Dreyfus Health Foundation, Association for Better Health, in collaboration with the University Hospital in Stara Zagora.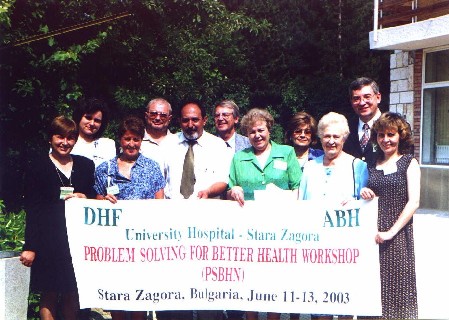 In their opening addresses, the Regional Governor Mrs. Maria Neikova, Dr. Horozova - Director of Regional Health Center, and the Director of the University Hospital Assoc. Prof. Valentin Stoyanov all spoke on the role of nurses in providing quality nursing care to the population.
A Bulgarian firm – Bulgarian Chemical Industries - Veliko Turnovo, presented a wide range of detergents and disinfectants used to maintain proper hospital hygiene. The firm also sponsored part of the workshop activities.
The following projects were prepared:
· A program for continuous rehabilitation at home for severe stroke patients - Anna Pantova
· A program to increase physical activities for medical staff - Vania Georgieva
· Translating "nursing diagnoses" into practice nursing care plans - Violeta Boneva
· The patient as a partner in prevention of decubital ulcers - Galina Delcheva
· Stress reduction for staff of the vascular surgery clinic - Galina Todorova
· Computer training for nurses - Gospodinka Gunova
· Reduction of absenteeism of medical staff - Petya Ganeva
· A program to assist patients and their families to cope with life after stroke - Darina Toteva
· A program to increase the number of blood donors - Dimitrina Todorova
· Early detection of tuberculosis among roma population in Troyan - Dilianka Chervenkova
· Setting up criteria for assessment of nursing staff performance at work- Evelina Vankova
· Control on dsinfection in the gynaecology department of Yambol Regional Hospital - Zdravka Shorgova
· Organizing computer training for nurses - Zlatka Romanska
· Health education program for 100 hypertensive patients - Lilyana Michailova
· Early diagnosis of hearing disability in newborns - Katya Christova
· Training anesthesiology nurses to handle procedures using a laryngeal mask - Mara Mariniova
· Preventing improper food intake in diabetic patients - Margarita Slavcheva
· Training post-laryngectomy patients towards proper self-assistance - Mariana Kotlarova
· An educational program to reduce the number of abortions - Maria Karadjova
· Providing patients with information on their rights - Maya Martinova
· Prevention of Decubital ulcers in elderly bedridden patients - Milena Bozadjieva
· Training in proper inhalation techniques for asthma patients - Mima Nikolova
· Providing relevant co-operation from relatives of psychiatric patients - Mladenka Datcheva
· Education for patients with artificial anus - Nedka Staikova
· Computer training for hospital staff - Nedyalka Veninska
· Proper collection and transportation of hospital wastes - Nelly Todorova
· Health education for young mothers on proper breast feeding hygiene and baby care - Pavlina Veleva
· A training program for nurses giving chemotherapy to cancer patients - Petya Katzarova
· Proper registration of nosocomial infections - Plamena Doncheva
· Providing information to GPs about documentation required for referring patients to hospital - Rodinka Christova
· Educational and rehabilitation program for pregnant and postpartem women - Rozalina Spasova
· Training communicative skills to nursing staff at a pediatric unit - Svetlana Ilieva
· Promotion of family blood donation - Svetlozara Andreeva
· Training student nurses proper hand washing and disinfection - Silvia Taneva
· Training for support hygiene workers - Slava Ruseva
· Blood donation promotion - Stanka Dineva
· Prevention of upper respiratory diseases in children attending a creche - Stefka Bozhinova
· Minimizing post-operative complication in children - Stoyanka Slaveikova
· Reduction of stress in nurses at the urology department - Tina Tekelieva
· Care for stroke patients after discharge from hospital - Tonka Chervenkova-Kambourova
· The role of the nurse in a multidisciplinary team - Christina Toteva
· Educational program for blood cancer patients on treatment and side effects - Yanka Kryakovska
Site visits and meeting with project coordinators
Site Visits in June, 2003
On June 11, a team of international facilitators – Dr. Jan Sobotka, Dame Sheila Quinn, Ms. Shelagh Murphy, Dr. Katarzyna Broczek and Mr. Paul Florea, together with Bulgarian facilitators visited two PSBH projects in Kazanlak. Among the visitors were Mrs. Milka Teneva – a representative of Kazanlak Municipal Health Care Department, and Dr. Horozova – Director of the Regional Hygiene and Epidemiology Station in Stara Zagora.
The project implemented by Mrs. Rositza Cherneva at the Nadezhada creche Kazanluk - "Nadezhda" in collaboration with the Regional Health Center and the Municipality Health Directorate aimed at prevention of foot deformities, and correction of mild forms of deformities among the children attending the crиche.
A remedial gymnastics program, prepared by Mr. Ivan Gudev - senior physiotherapist at the National Rehabilitation Center in Pavel Banya, was adapted to the age of the children by Mrs. Elena Shikova. Materials and equipment were provided mostly by parents. The head of Pediatric Department of Orthopedics in the Stara Zagora Regional Hospital - Assoc. Prof. B. Vassev consulted the children with problems.
For one year, 66 children were included in the groups. In 12 children, the flat foot deformity has been corrected. Of the 14 children leaving the crиche, there was an improvement in 11 children, and in three there was no improvement. They were all referred to a specialist for further treatment and follow-up.
The project results have proved the project could be continued as a routine program for the crиche.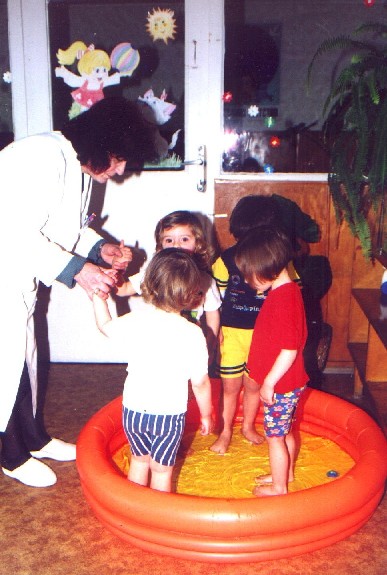 Mrs. Nelly Didiletzova's project was aimed to reduce the rates of respiratory infections among 28 children (aged 12 to 36 months) attending the "Prolet" crиche through a series of physical exercises and proper diet. The team of the project includes a pediatrician, four nurses, a physiotherapist and a pedagogist. The team works in close collaboration with the general practitioners and parents. Different activities were organized depending on the season and age of the children. Special brochures were prepared with instructions for the parents, so that the physical fitness exercises are not interrupted when the kids do not attend the crиche.
There is good collaboration between the team, parents and medical professionals. The results -about 20% decrease in the rate of upper respiratory infections after completion of the project, have encouraged the team to continue the project as a routine program for the creche.
From July 7 to 11th, the PSBHN coordinator of DHF – Ms. Pamela Hoyt was in Bulgaria for site visits. Her program was quite busy – many sites and projects were visited.
In Pleven, a meeting with project coordinators at the University Oncology Center was held on Monday July 7th. Current results from projects were reported. One common feature of the projects implemented at the center is the support they get from other PSBH project coordinators, and from Assoc. Prof. Tashko Deliiski - head of the center, Dr. Roumen Stoyanov, Assoc. Prof. Georgi Baichev, Dr. Slavcho Tomov. Some of the project leaders participated in the National Conference in Nursing Care in Pleven in May, and were awarded prizes for outstanding results.
· Mrs. Valentina Besheva's project aimed at the increase of early diagnosis of breast cancer. More than 200 women were examined.
· Through her project Mrs. Ivanka Spasova managed to improve pain control in cancer patients. The newly opened consulting room at the center has greatly helped both patients and their families.
· Mrs. Anelia Tzvetanova organized education for one hundred patients undergoing radiotherapy. Skin care and leukocyte count control were the key points in her attempts to help patients contribute to improve the effects of the treatment.
· The project of Mrs. Viliyana Stoeva aimed to improve pain control in patients treated at the surgery clinic of the center. She worked in co-operation with Dr. Simeonov – an anesthesiologist, and Dr. Stoyanov from the clinic. This has helped her a lot in her educational program for both patients and their families.
· Mrs. Meliana Al Shargabi's project aimed to improve the efficacy of treatment and life quality in outpatients undergoing chemotherapy. She started with a small group, and now nearly 500 patients receiving chemotherapy are included in the program.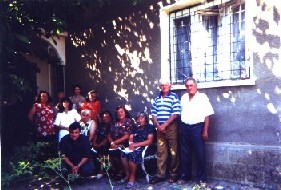 On the same day, Pamela Hoyt and the local coordinators Mrs. Yanka Tzvetanova and Dr. Angelika Velkova visited a nursing project run by Mrs. Silvia Vancheva in Riben – a village in the Pleven region. The project aimed to control hypertension was started in 2000, with 50 patients aged 50 to 70 and attending the general practice in the village. The average BP in those was 180/110 mmHg when the project was started, and after a year it dropped to 155/90 mm Hg.
At present, the project has expanded to cover all hypertensive patients in the practice. Thanks to the compliance of the patients (they all have diaries for self-control) and joining other blood pressure control programs, no dramatic incidents related to hypertension have happened.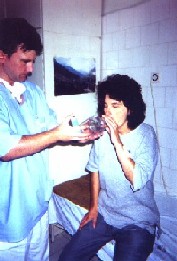 Two projects were visited at the Lung Disease Clinic in Pleven (see January-March 2003 issue of Connections).
· For six months, the results achieved by the program for training patients with bronchial asthma (BA) and chronic obstructive pulmonary disease (COPD) are as follows: of the 202 COPD patients 42 rehospitalizations were necessary (reduction rate was reduced by 20%), and the cases of rehospitalizations among the 75 BA patients were 23. Mrs. Petya Simeonova plans to work on the project for two years.
· The project for continuous education of nursing staff, which is run by Mrs. Snezhana Petkova has improved both quality of nursing care at the clinic and patient satisfaction, evaluated by standard questionnaires.
· Two projects at the Clinic of Endocrinology were visited. They are both oriented to training diabetic patients. Mrs. Tzvetelina Ivanova, coordinator of one of the projects has announced 20% reduction in rehospitalization rate among the trained patients.
Two project sites were visited in Gabrovo – the Gabrovo Regional Hospital and the Regional Pulmonary Hospital. Over 20 projects from the 2002 PSBHN workshop were seen. During the meeting with project coordinators, updated results from the project activities were reported.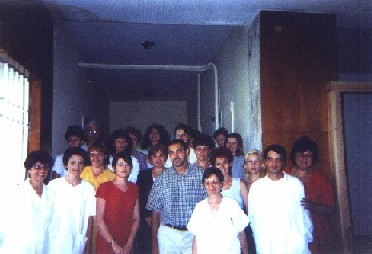 Dr. Antoaneta Stoikova, Mrs. Nelly Todorova (local coordinators) and Dr. Bozhidar Paralchev (director of the hospital) were pleased with the results achieved by all projects, and by the creativity of project coordinators in solving problems at the hospital. They helped to improve communication between wards and staff, increase cost-effectiveness and patient compliance and the preparation of standard protocols. Some of the projects have the potential to be expanded to the community, involving people outside the hospital in problem solving.
Results from some of the projects at Gabrovo Regional projects:
· The project of Mr. Dimitar Dimitrov aimed at raising the level of knowledge in the Gabrovo region population on exogenous poisoning. As a result of the campaign (organized in collaboration with Dr. Petar Boyadjiev – a toxicologist at Gabrovo Regional Hospital, and Dr. Veselin Dimitrov and Mrs. Ivanka Rouseva of the Regional Hygiene and Epidemiology Station), the number of the cases registered has dropped from 63.3/1000 in the year 2000, to 47.3/1000 in the period July 2002 – July 2003, and the death rate has decreased from 0.30% to 0.10%.
· The educational program on early detection and treatment of osteoporosis for women in active age, carried out by Mrs. Roumiana Ivanova has so far included 26 women, but the group is expanding since stress was laid on prevention of osteoporosis. The educational materials, prepared with the assistance of highly qualified specialists have lead to the enlargement of the initial target group.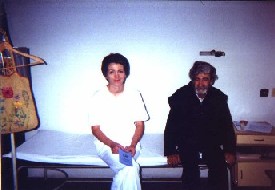 · Mrs. Petya Vitanova prepared an information card, which was distributed among chronic patients attending outpatient clinics, general practitioners, social services and various clubs of disabled people. This has improved communications between the different institutions and has reduced the number of violations of the patients' rights, since their level of knowledge of these rights has increased by 20%.
· Mrs. Assya Peikova's project which helped raise funds for purchasing new electronic scales has helped reduce the cost of media preparation in the microbiology laboratory by more than 50%.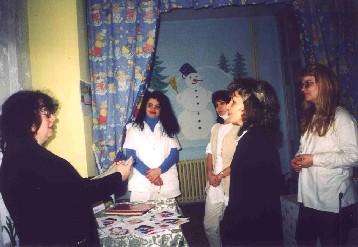 · The projects of Mrs. Raina Gencheva, Mrs. Ganka Nedelcheva and Mrs. Daniela Simeonova have totally changed the pediatric ward and the results achieved there may serve as an example of the effectiveness of the PSBH approach. Besides, Mrs. Nedelcheva's project got a special award at the National Conference of Nursing Care in Peven in May 2003.
· The projects of Mr. Emil Damyanov and Mrs. Milena Pencheva (both physiotherapists) have proved useful for both patients and hospital staff. Education for relatives and home visits to stroke patients have contributed to recovery, and absenteeism due to back pain among staff is now lower because of the regular remedial gymnastics sessions.
· Mrs. Donka Stefanova's project has increased the level of knowledge on Lyme disease among the population of Gabrovo.
The projects implemented at the Gabrovo Pulmonary Hospital projects have also achieved good results. Here are some of them:
· Dr. Ivo Stanchev and his team of four nurses have managed to increase the number of patients who comply with undergoing bronchoscopy by 20.7 % , and the number of patients diagnosed with pulmonary tuberculosis and early stages of lung cancer has increased by 20.9%, as compared to the same period before implementing the project.
· Mrs. Donka Georgieva organized training for 42 asthma patients concerning inhalation techniques. As a result, 16 of them can now properly use a pocket metered dose inhaler.
· Mrs. Radostina Ignatova's project has helped assess the level of knowledge of the population of Gabrovo region on tuberculosis and its treatment, and strategies to improve prevention and early detection of the disease.
· The project implemented by Mrs. Kamelia Dragieva aimed to reduce the rate of decubital ulcers in bed-ridden patients. Of the 40 patients with 1st and 2nd degree ulcers, in 20 there was a full recovery, and in ten patients there was improvement. Of the 10 patients with 3rd degree ulcers, there was improvement in four of them.
· The training sessions organized by Mrs. Petya Dacheva helped improve the communication between patients and nursing staff.
· Mrs. Michaela Dimitrova organized training for the ICU staff on prevention of nosocomial infections.
· Mrs. Lyubka Dimitrova (head nurse of the hospital) implemented a project, which helped increase the number of people who received nursing care in their homes, or at the hospice in Gabrovo. As compared to the previous year, there were 621 more home visits paid by nurses, and 233 more visits to the hospice.
Two meetings with leaders of projects from the June 2002 PSBHN workshop were held in Varna.
At the St. Marina University Hospital, six projects were implemented.
· Mrs. Angelina Zhelyazkova organized a training program for the hygiene support workers of three surgical clinics and the ICU. ECOLAB LTD presented modern hospital disinfectants, and donated dosage equipment. The head nurses of the clinics prepared standard hygiene protocols. As a result, though there are patients at higher risk at these clinics, no infections were registered at the three clinics after the project was started. Future plans include implementing the program in the rest of the clinics and introduction of high-level hygiene standards.
· The project of Mrs. Galina Ganeva aimed at reducing nosocomial infections at the Pediatric Clinic and the Intensive Care Pediatric Unit, and the training program was organized for 25 nurses and 12 hygiene support workers. Mothers of children were also received instructions. As a result, the rate of infections was reduced by 50% as compared to a previous period.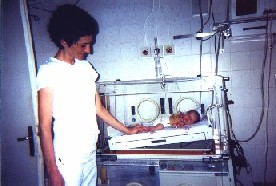 · Mrs. Dora Vassileva aimed to improve the quality of nursing care through organizing postgraduate training of 12 nurses at the Intensive Care Pediatric Unit. They all took one-month training course at the ICU and computer courses, and four nurses are taking bachelor or master degree courses at universities. The project has raised the issue of proper incentives for better nursing.
· Mrs. Nadya Andonova has built a team to improve on social integration and follow-up of 26 psychiatric patients. The patients' "charts" improved collaboration between social and medical services, despite the changes in the regulations that need to be considered now.
· Mrs. Krassimira Dimitrova organized postgraduate training for eight nurses from the eye clinic. After the 15-week courses, one of the nurses increased her level of knowledge by 10%, five – by 50%. Two of the nurses had very good placement test results, and showed excellent end-of course results.
· Mrs. Greta Dermedjieva has so far worked with five acute myocardial infarction (AMI) patients. In all of them, lipid levels were reduced, three lost 5% of body weight on the average, one lost 4%, and one – only 2%. Future plans include working with a larger group of AMI patients.
The meeting at the Varna Hygiene and Epidemiology Station showed great progress in the projects of school nurses (see more details in the September-December 2002 issue of the Bulgarian Digest at www.livebg.net/psbh-digest).
The projects were concerned with weight reduction, drug abuse prevention, smoking, sex education, stress reduction, basic hygiene, reduction of violation, prevention and correction of incorrect posture and minor spinal deformities.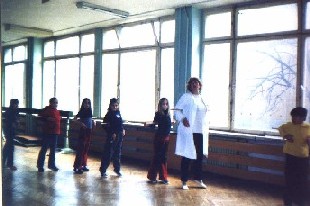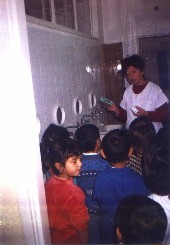 The local coordinator – Mrs. Gergana Momova, and the staff of the Health Promotion Department have all assisted the project coordinators to implement their projects, and achieve remarkable results.
A "Problem Solving for Better Health Workshop" will be held in Rouse from October 14 to 16. The workshop is organized by Dreyfus Health Foundation, Association for Better Health – Pleven, and the Regional Hospital in Rouse.
A folow-up workhop for projects from the June PSBHN workshop projects will be held in Sofia in December 2003.
Projects implemented in St. Marina Hospital - Varna
A program to decrease the rate of nosocomial infections in First pediatric Clinic and Pediatric intensive care unit at St. Marina hospital in Varna
Mrs. Galina Ganeva
In September 2002, the project was discussed at a clinical meeting and a team of a nurse, three doctors and a pedagogist was built. A plan of the educational sessions for the personnel was developed and an information brochure for the parents of ill children was prepared. In October and November an educational course of 10 lectures on prevention of nosocomial infections for 25 nurses was held at the clinic and PICU. At the same time an educational program of 7 lectures on disinfection and hospital hygiene was organized for all twelve hospital attendants working at both units. Produced brochures with advice on child health were distributed among the parents of admitted children. The pedagogist worked with the children treated at the clinic on development of hygienic habits and acquiring general knowledge about health. The effectiveness of newly introduced disinfection program was evaluated on the basis of microbiological tests at the beginning and at the end of the project. Nosocomial infections rate was studied in October and in December and a 50% reduction was achieved. There is an interest to apply the project in several clinics of the hospital facing similar problems with nosocomial infections.
Quality of care improvement through continuing nursing education
Mrs. Dora Vasileva
Team of 2 nurses and 2 specialists in human resources management was built. The target group included 12 nurses at the Pediatric intensive care unit at St. Marina Hospital in Varna. Initially the level of motivation for personal and professional development was assessed by a questionnaire and it reviled the specific educational and organizational needs of the group. Basic principles of working in a group and personal roles in a team were presented in 6 lectures. All the nurses participated in one-month course on intensive care at the Department of Anaestesiology and Reanimation of Medical University in Varna. The nurses were trained in computer skills for 2 months and they were able to apply their new abilities working with the Hospital Enternet computer system. In February 2003 the project coordinator organized a course of 4 lectures on team development. As a result of the project there is an improvement on professional competencies and skills of the nurses, and the final evaluation measured that 20% increase of their specific knowledge to work in a team had been achieved for 6 months.
Continuing education program for the nurses at the Ophthalmology Unit at St. Marina Hospital in Varna
Mrs. Krassimira Dimitrova
The project was initiated in January 2003. An educational program was developed with the help of the Head of the Ophthalmology Department of the Medical University. Regular weekly meetings with lecturers from the Department were organized for the target group of 8 nurses. The most important problems of clinical practice and ophthalmologic nursing were discussed. The educational progress of each participant was evaluated periodically. Seven of the nurses demonstrated excellent performance after the training.
Reduction of nosocomial infections rate by improving hospital hygiene and disinfection
Mrs. Angelina Zhelyazkova
The project started in September 2002 and a team of a doctor-epidemiologist, 4 head nurses of the surgical departments and the chief-nurse of the hospital was built. A survey was conducted to study patients' opinion on hospital hygiene. About 50% of the patients assessed the level of hygiene as very good. An educational program to teach a group of 100 hospital attendants was implemented. For a period of 3 months 10 lectures on disinfection were delivered and a final test of knowledge and practical skills was carried out. Over 90% of the target group showed good results. In November 2003 a new system of disinfection was introduced in all surgical departments and the existing disinfection program was updated. All 50 surgical nurses took a training course on new disinfection products. As a result of the project no nosocomial infections were registered for a period of 9 months.
Prevention of febrile convulsions in childhood in Montana region
Dr. Parvan Krastev and Ms. Liliya Parvanova
The project started in December 1997 and the final results were assessed in December 2002. A retrospective study was carried out to assess the frequency and causes of febrile convulsions in childhood on the basis of hospitalized cases at the Regional Hospital for the period 1993-1997. The study demonstrated that 3.4% of all hospitalized children were admitted due to convulsions and 55% of those were of febrile nature. The condition was more frequent among children below age of 2, at body temperature over 38.5°C and during the night. Most of the parents did not know what to do for a child with febrile convulsion and how to prevent the condition. Health education program was developed to increase the public awareness on the problem and skills of the parents to prevent a febrile convulsion. Several articles appeared at the local newspapers and a TV discussion with a pediatrician and a neurologist was broadcasted. Information brochure with advice on appropriate behavior was sent to the parents of all children who had been hospitalized for febrile convulsion previously and was delivered to the GPs in order to distribute among the parents of high-risk children. The final assessment of the program found 1,75-fold reduction in the rate of hospitalized febrile convulsions and significant increase in knowledge and practical skills of parents to cope with the problem.